Vinyl Flooring in

Bluffdale

, UT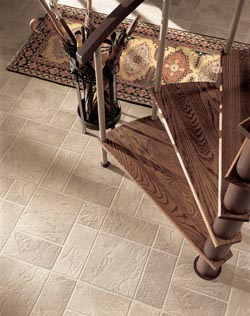 Are you looking for flooring that is strong, long-lasting, and easy to maintain? Then, come into our local store to see our numerous collections of stylish and durable vinyl flooring. We provide customers with a huge selection of styles, brands, colors, and patterns in vinyl. Choose from the three main categories, which include the following:
Vinyl Sheet Flooring
Vinyl Tile Flooring
Vinyl Plank Flooring
Our flooring store has been successful for more than 24 years because we insist on value. We only sell our customers brand-name flooring. No generic flooring here. Brand-name flooring is of superior quality and offers the latest innovations in style, color, and performance. Because we value your business, our showroom stocks the following brand names in vinyl floor coverings:
Armstrong
Core Elements
Downs
Floorcraft
Karndean
Mannington
Naturcor
Spotlight Values
PurSTONE
Affordability and Quality with Our Vinyl Selection
Discover the merits of vinyl floor coverings with help from experts. In our showroom, design and flooring professionals are waiting to share their extensive product knowledge of this attractive and practical flooring option. Vinyl sheets are a perennial favorite and have been for decades with good reason. These 6' or 12' sheets comes in a wide variety of colors and patterns. Plus, they are so easy to care for. All that is needed to keep your vinyl floors looking lovely is dry mop when dusty and damp mop to get rid of dirt or grime. This flooring is made to look its best at all times.
This manufactured flooring is made tougher than ever with advances in science and technology. It lasts longer and looks even more realistic in styles that mimic ceramic tile or hardwood. In addition, we offer artist-inspired patterns and the latest fashion colors.
Tile in any form is a welcome flooring option for its beauty. Find it in ceramic, porcelain, and slate, as well as other forms of natural stone. You can have the authentic appeal of tile at cost-effective pricing when you choose luxury vinyl floor coverings. This flooring resembles natural tile because of the high-tech embossing techniques that manufacturers use. With vinyl tile, you get all of the benefits at a smaller price tag.
For those of you who love hardwood, but prefer a different flooring material, consider elegant vinyl plank. Embossing gives this flooring the details that you would find in real hardwood. Look closely to see the grain, knots, and patterns you expect in wood floor coverings. With luxury vinyl plank, you get the beauty of wood with easy care and maintenance.
Vinyl Flooring Installation for Long-Lasting Beauty
The best reason to choose professional installation is to ensure the beauty and longevity of your flooring. Our store employs flooring technicians who have a wealth of experience in installing vinyl properly. Their methods result in vinyl that lays flat and adheres securely--the two requirements for flooring that remains in place so it is protected from damage. Let us schedule convenient vinyl flooring installation so you can enjoy your new floors for many years to come.



Contact us today to schedule free flooring consultation in your home or business. We are proud to serve clients in Bluffdale, Utah, as well as the Utah Valley, and Utah, Davis, and Wasatch counties.