Tile Flooring in Bluffdale, UT
Find beautiful tile flooring at Bowcutt's Flooring America. New tile makes your kitchen, bathroom, or any other room in your home look brand new. Our showroom in Bluffdale, Utah, offers a diverse tile selection so you can find the ideal tile flooring at a price you can afford. Choosing from our ceramic, porcelain, and stone tile will help you create the look you want. Our flooring specialists are happy to provide you with extensive options to make any area in your home stand out.
When you upgrade your flooring with us, we make it easy on you. Simply choose your tile flooring and we'll do the rest. We have a great deal of experience in the industry and we know how to completely transform the look of any space. Our team of flooring installers has handled projects of all shapes and sizes. We will work with you every step of the way - from tile flooring selection and measurements to your final flooring installation.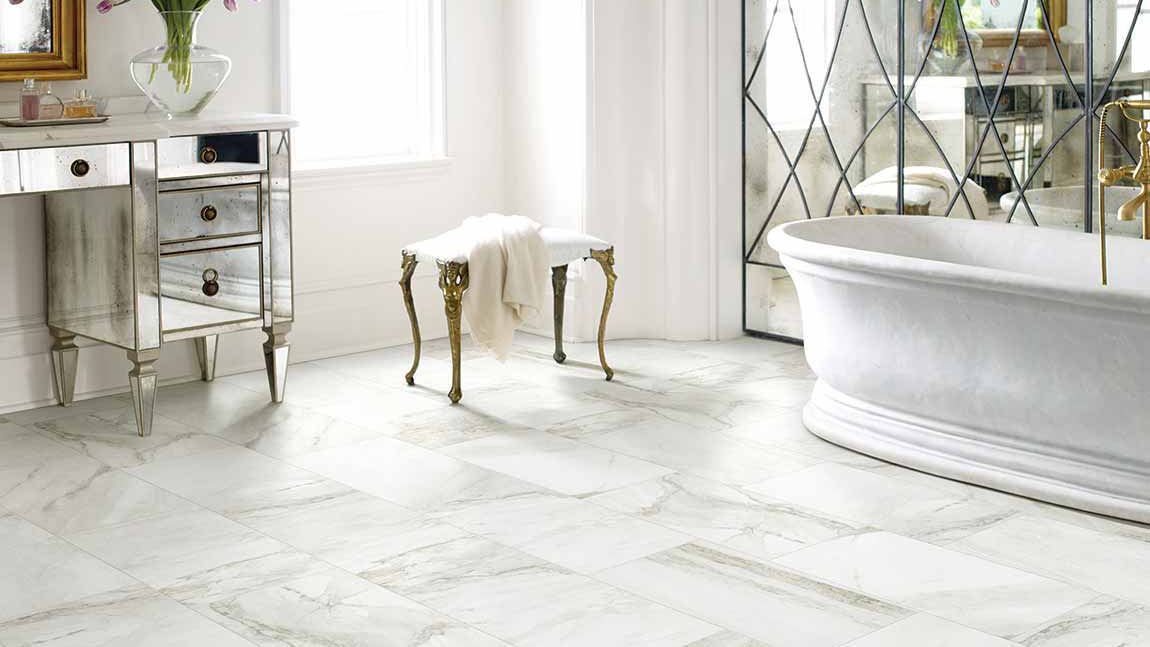 Extensive Tile Flooring Options
Ceramic
Ceramic tile is an exceptional flooring choice due to its ability to blend functionality, beauty, and value. It is a great fit for bathrooms and kitchens because it is very durable and resistant to water. Any accidents or messes are easy to clean up, and the floor requires little to no maintenance when installed properly. When deciding on the style of ceramic tile flooring, you can choose the exact color, shape, and pattern you need to complete your design goals. Ceramic tile is also very affordable, especially considering the quality of our top-quality brand-name products.
Porcelain
Porcelain tile has many of the same properties as ceramic tile, but the manufacturing process makes these tiles even stronger and more resistant to water absorption. This type of tile is sturdier than ceramic and is created by firing denser, finer clay at higher temperatures than ceramic tiles. Due to its ability to resist scratches, spills, and heavy foot traffic, porcelain tile is ideal for bathrooms and kitchens. Porcelain is best to be used anywhere you suspect moisture could be an issue.
Stone
Stone tile is a natural material that is both strong and beautiful. This type of tile adds an organic feel to any room you choose to place it in. You can even use stone tile outdoors for a patio. Our high-quality stone tile is treated and sealed to make it waterproof and resistant to stains. One of the major advantages of this type of tile is that it retains heat well.
Durable Wood-Look Tile
Wood-look tile offers the natural feel and looks of hardwood flooring. It offers strength and flexibility and can be used anywhere in your home. The manufacturing process to create wood-look tile flooring allows this type of tile to mimic the appearance and texture of many hardwood species, such as pine and oak. Wood-look tile captures the rich hues and grains that are found in genuine hardwood. Due to wood-look tiles' dense structure, this material is sturdy and non-shifting. It stands up well against heavy foot traffic, making it a great addition to any room in your home. Tile floors will not shrink, expand, or warp when exposed to moisture like some genuine hardwood might. It's tough and works especially well in kitchens, bathrooms, and basements.
The Ease of Tile Maintenance
Tile flooring is easy to clean, which makes it ideal for homes with active families and pets. Anyone can benefit from tile's ease of maintenance. Tile floor repels allergens, pollen, and dander, providing seasonal relief. Standard cleaning can be done with a weekly wet mop and regular sweeping or vacuuming. For a heavy-duty clean, strong solution all-purpose cleaner can be used on glazed tiles, while unglazed tiles can be treated with paste, water, and scouring powder. We recommend consulting your tile's warranty before using any cleaners with harsh chemicals as they could damage your tile's finish.
Professional Tile Installation
Once you have chosen the right tile flooring for your space, take the final step in updating your home with a tile flooring installation from our professionals. By relying on our professional installation services, you are maximizing the longevity of your new tile floors. Before beginning your tile installation, our team will measure the room where your new flooring will go first. This measuring service is completely free, and after we finish, we provide you with a free estimate on the total cost of materials and labor. Our trained professionals have years of experience and only use the highest quality tools and materials for each flooring installation so the bond to the subflooring stays strong, and so the tiling will not shift over time.

When you trust us with your flooring installation, our promise to you is to install a long-lasting tile floor whose beauty can withstand the test of time. Trust our experts to use the best care and installation methods. All of our tile products are covered by our industry-leading warranties, including our Ultimate Confidence Guarantee.


Contact us to learn more about our tile flooring selection and installation services. We proudly serve customers in Bluffdale, UT, and the surrounding communities.