Luxury Vinyl Flooring in West Jordan, UT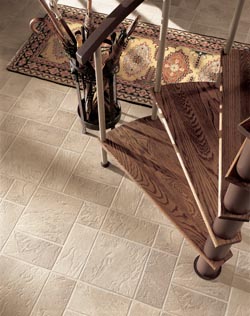 Transform the feel of your home or office by investing in stylish luxury vinyl tile or plank flooring. Why not update one of the largest surfaces in your home so it truly reflects your design aesthetic? We welcome residential and commercial clients to visit our showroom to check out the options.
For many homeowners, the right solution to a number of rooms and areas is luxury vinyl flooring. It offers an unbeatable combination of stylishness and durability. This style can look just like tile, natural store, or hardwood planks, depending on your preferences. Leave the lasting impression you want to create with the addition of either luxury plank or luxury vinyl tile.


Advantages of Adding Resilient Flooring to Your Home or Office
Thanks to innovative printing techniques and improved manufacturing, adding resilient flooring has never been easier than it is today. You will get all of the advantages of a comfortable flooring style at affordable pricing for a complete update. It is always our goal to make sure you are completely satisfied with your new floors. When you choose this flooring, you can take advantage of all of the following features and benefits:
Tremendous Durability
Realistic Printing that Looks Authentic
Cost-Effective Options
Styles to Match Every Design Preference
Decreasing the Noise Level in Your Home
Printing and Plank Size to Match Preferences
Flexibility and Comfort Underfoot
No Contraction or Expansion from Humidity
Water and Stain Resistance
Imperviousness to Exterior Weather Conditions
Decreased Allergens in the Air
No Damage Caused by Children or Pets


Book a Free Luxury Plank Flooring Consultation
Come to us if you are ready to make a change in your home, but you aren't sure where to start. Our design professionals are happy to offer free in-home consultations. Prior to your scheduled appointment, we discuss factors with you such as budget, style preference, brands and material options. On the day of the appointment, we show up on time and with a range of brand flooring samples like Armstrong, Karndean, Coretec, and Naturcor. Many people are drawn to the look of luxury plank flooring because it meets style and budgetary preferences. You can make a purchase with confidence when our team is on your side. These no-obligation consultations do not mean you need to make a purchase.


Convenient Luxury Vinyl Tile Installation
From an initial consultation to installing the final piece of flooring, our team is happy to guide you every step of the way. We believe in quality luxury vinyl flooring installation services, which starts with using best practices, using professional tools and equipment, and working efficiently. Our store extends a lifetime guarantee on all of our installations, which means if you experience an installation-related issue we correct it at our expense.
Trust us for quality work we guarantee on your behalf. Whether you want to be the go-to home where friends hang out or you simply want to be more comfortable in your own location, rely on us to assist you as needed.



Make an appointment with us when you are ready to check out your luxury vinyl tile options. Contact us today to learn more or to schedule. We are proud to serve clients in West Jordan, Utah, as well as the Utah Valley, and Utah, Davis, and Wasatch counties.