Hardwood Flooring in West Jordan, UT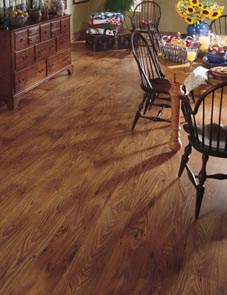 Look no further than our flooring showroom when you are in the market for solid hardwood flooring. We offer a large collection of stunning hardwood flooring. For decades, property owners have seen this value-adding update as a desirable feature that is aesthetically pleasing. If you are ready to join the ranks of people with this style in their homes, look no further than our store for your purchase. We offer varying plank widths and species of all types from top brands, Inhabit and Stonewood.
Whether you have your eye on the deep red of mahogany or the classic lightness of birch, our showroom offers you some of the area's lowest hardwood flooring prices. Because we are part of a nationwide franchise, we have buying power that cannot be matched. No matter the size of your project, we can transform your space with the right floors. Our company also offers to guide you through the proper hardwood floor installation.


Invest in Professional Hardwood Flooring Installation
Investing in hardwood flooring installation comes with a number of advantages. No matter the price you pay for your engineered or solid wood planks, this classic look will transform your space for the better. Whether you plan on selling soon or aren't considering it yet, this floor is, and will likely remain, a highly coveted flooring style among homeowners. That's why it's important to be sure your installation is done properly and with best practices the first time. Property appraisers see hardwood flooring as a value-adding feature because it offers all of the following benefits:
High-Quality Appearance that Is Classic
Durability that Can Last for Decades
Resistance to Wear and Tear
The Option to Refinish Solid Hardwood
Improved Air Quality for People with Allergies
Varying Width, Shine, and Finish Options for All Aesthetics
Beauty Created from Natural Materials
Warmth that Is Added to the Home
Easy Cleaning and Maintenance Options
The Perception of a Larger Space
Increasing Property Resale Value


Schedule a Solid Hardwood Flooring Consultation
We understand that solid hardwood flooring is a considerable investment in the future of your home. You can make a purchase with confidence when you schedule a consultation with us. Our professionals make appointments at your convenience and show up to the location with multiple flooring examples for you to see in your space. We listen to your preferences, narrow down your options, and help you find the right hardwood floors for your household. Seeing the flooring in the actual space, including with natural lighting, helps you make a purchase with confidence.


An Organized Hardwood Floor Installation Showroom
Don't know where to start? Simply step inside of our showroom and we make it easy for you to find what you are looking for. We keep the flooring in our store organized by style. If you want assistance from a sales professional, we will work with you until the right option is found. If you already know what you want, we will simply point you in the right direction and let you peruse the store as you wish. Get the right level of service for your specific needs from our hardwood flooring store.



Add value to your home when you contact us for solid hardwood flooring. We are proud to serve clients in West Jordan, Utah, as well as the Utah Valley, and Utah, Davis, and Wasatch counties.