Hardwood Flooring in West Jordan, UT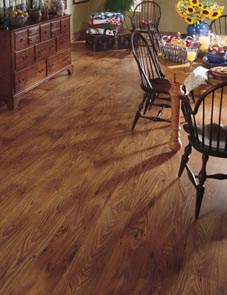 Look no farther than our showroom when you're in the market for hardwood flooring in West Jordan, UT. Bowcutt's Flooring America offers a large variety of stunning selections. For decades, property owners have seen this value-added upgrade as a desirable feature that's aesthetically pleasing. When you're ready to join the rank of people who covet hardwood, come to our flooring showroom to make your purchase.
Whether you have your eye on the deep red of mahogany or the classic lightness of birch, our showroom offers you excellent selection and value. Because we are part of a nationwide franchise, we have buying power that cannot be matched. No matter what the size of your project, we can transform your space with the right floors. Not only do we sell hardwood, but we can also arrange for installation by qualified professionals.

The Reasons for Choosing Hardwood
Investing in hardwood flooring installation comes with a multitude of advantages as this flooring option is a classic that transforms any space. Hardwood is and will remain a highly coveted flooring style with a high resale value. Select this flooring option for the following reasons:
Varying-Width, Shine, & Finish Options for All Aesthetics
Beauty Created from Natural Materials
Durability That Lasts for Decades
Resistance to Wear & Tear
The Option to Refinish Solid Hardwood
Improved Air Quality for People with Allergies
Easy Cleaning & Maintenance
Increased Property Value
A Multitude of Wood Flooring Options
We find hardwood fascinating because there are so many options from which to choose. In addition to a variety of domestic and exotic species, our showroom offers you famous brand names, such as Inhabit, Baroque, Floorcraft, and Spotlight Values; as well as a variety of finishes, stains, colors, and styles of hardwood.
Many of our customers come into our store seeking hand-scraped hardwood floors. This style is one that harkens back to the day when craftsmen scraped the surface of planks to smooth them by hand. This gives the wood a rich character that is appealing, as well as making it easier to maintain. For families with children and pets, hand-scraped wood conceals scratches and nicks as these blend into the existing surface.
Sale, Selection, & Service
When you are ready to get started; simply step into our showroom and let us make it easy for you to find what you want. To assist you in making your choices, seek guidance from one of our sales and design professionals. These professionals have an extensive brand and product knowledge to answer all of your questions. Plus, we can help you pick the flooring that complements the style of your home. After you've made your selection, we can schedule installation that ensures the beauty and durability of your new floors.



Contact us today to consult our sales and design professionals to select hardwood flooring for your home. We proudly serve customers in West Jordan, Utah, as well as the Utah Valley, and Utah, Davis, and Wasatch counties