Hardwood Flooring in

Bluffdale

, UT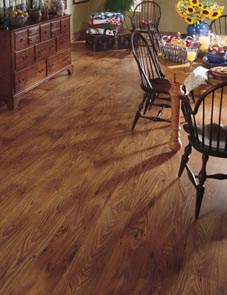 No flooring on the market is more versatile and sought after than our hardwood flooring in Bluffdale, UT. That is why Bowcutt's Flooring America strives to carry the finest selection of hardwood flooring in Bluffdale, UT, giving property owners throughout the area the opportunity to find the perfect flooring for their needs. Our selection ranges from deep, rich mahoganies to bright and vibrant maples. Regardless of the look you're going for, we have something in store for you. Stop by today to go over your options with a member of our flooring showroom team.
Your options are endless when you turn to our team for hardwood floors. Even if you aren't sure exactly what you're looking for, a member of our team is on standby to help. Our staff is composed of flooring and design experts who can help you find the perfect fit for your home. We'll help sort through all of our stock to find the ideal flooring for your individual needs, taking into account your current décor as well as your tastes. With our team of flooring specialists on your side, you're sure to get the absolute perfect floors for your needs.
The Advantages of Hardwood
Hardwood has the potential to completely transform any space it is installed in. Not only does it look great, but it also enhances the value of any home or business in which it is placed. This value is maintained for years down the road thanks to hardwood's incredible durability. With proper care and maintenance, hardwood can be used for decades without it showing any signs of wear and tear. Resistant to stains and scratches, you simply cannot go wrong when you choose from our wood flooring options.
Installation Done Right
No flooring purchase is complete until it has been expertly installed by a professional. Without the proper tools and techniques, your new flooring might not look as good as you envisioned it. Fortunately, our team is here to help install your new flooring as well. We offer the quality hardwood flooring installation you need to ensure your new floors look great and last for years down the road. Reach out to a member of our team today to find out more about the techniques we use for installing your brand new, gorgeous hardwood floors.
Contact us right away to learn more about our fabulous selection of wood floors. We are proud to serve Bluffdale, Utah, and the surrounding area.