Enhance Your Space with the Luxurious Feel of Carpet
Whether you are re-carpeting a single room, a commercial space, or your entire home, Bowcutt's Flooring America is your go-to resource for premium carpet products in Bluffdale, Utah. We carry a diverse array of stylish flooring options from many industry-leading manufacturers. From area rugs to carpet tiles, we are confident that we have choices fit for shoppers of all tastes and preferences.

You will find that the design possibilities are endless for your remodeling project when you step through our doors. With everything from traditional to contemporary choices that blend with any décor, our showroom features something for everybody. Visit our Bowcutt, UT, showroom today to browse all of the colors, textures, and styles we have available and find the right combination for your remodeling effort!

A Diverse Range of Carpet Types
Our Bluffdale customers continue to choose our affordable carpet to create a cozier home environment. Our various carpet styles include non-slip (ideal for children), convenient, and allergy-resistant surfaces. A new carpet can modernize any design, from sophisticated stair runners to wall-to-wall carpet floors. Fiber type, pile height, face weight, gauge, twist level, tuft tie, density, and stitch rate can all affect the durability and performance of your carpet. As a result, we always advise consulting our experts when selecting a new carpet. We are pleased to offer the following types of carpeting at our Bluffdale, UT, location:
Frieze Carpet
Frieze carpeting is exceptionally soft and comes crafted in a cut-pile construction. Frieze's durable curling fibers are known for their ability to camouflage dirt.
Loop & Loop Cut Carpet
Loop Carpeting is crafted with a surface of uncut loop fibers. Our most popular type of carpet, a level-loop carpet style comes woven or tufted, with a same-height loop surface. A multi-loop carpet consists of loops with two or three different pile heights. These carpets offer a casual look that is good for hiding foot traffic.
Alternatively, cut-loop carpeting is designed just as it sounds. In this case, the loop fibers have been cut straight, offering a snag-free consistency that is popular for those with children or pets.
Patterned Carpet
Carpets containing patterns are created using methods similar to printing paper. These methods include flatbed screen printing, rotary screen printing, Stalwart printing, and modern computer-programmed jet printing.
Saxony & Textured Saxony Carpet
Saxony carpets are cut-pile carpets that can add a touch of luxury to any room in your home. Saxony Type patterns are resistant to wear, shading, and traffic marks in your home. Textured Saxony uses the same fiber types, though they've been twisted in different directions to offer a coarser appearance.
Berber Carpet
Berber carpet has a unique style and a cushiony feeling underfoot that can be found in various pile heights and can be constructed as a level-loop or multi-loop carpet, depending on your preference. Berber's natural strength and soil-hiding capabilities make it a go-to floor for active areas in the home.
Discover the Many Benefits of Carpet Flooring
Choose comfortable, modern carpeting at competitive prices when you visit our expansive showroom. When you want to be comfortable but also want the confidence that your new carpet flooring will be stylish and can stand up daily to wear and tear, look no further than our fully stocked showroom. Inside our Bluffdale showroom, you'll find quality carpet brands such as Karastan, Masland, Anderson-Tuftex, Stanton, Mohawk, Shaw, and more. Property owners opt for new carpet for their remodeling projects for its variety of benefits, some of which include:
Complements nearly any décor.

Limits injuries from falls.

Softens noise levels in your home.

Easy to clean with a vacuum and stain remover.

Durable and comfortable for many years.

Insulates your home during winter.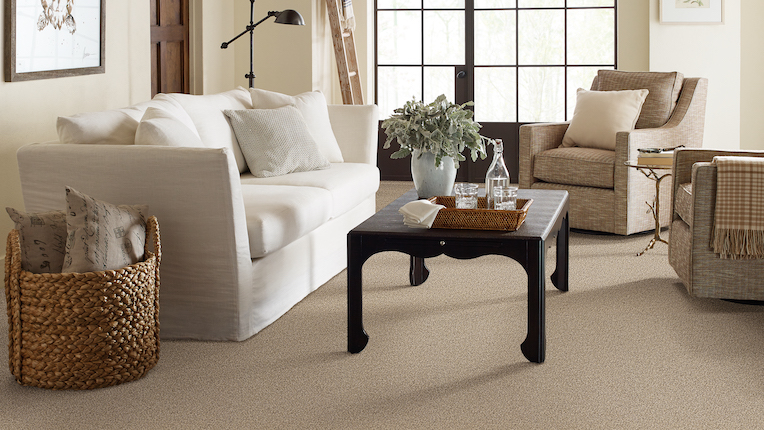 Worry-Free Carpet Maintenance & Care
One of the many reasons our customers choose carpeting is for its low-stress maintenance. Carpet care is as simple as weekly vacuuming and annual professional cleaning. While yearly carpet shampooing can assist with any blemishes that may have accrued, our carpets are built to withstand even the toughest stains and foot traffic. Prior to the purchase and use of at-home cleaning products, be sure to check your warranty as some products contain harsh chemicals that can damage carpet fibers. Our carpet specialists are happy to answer any and all of your carpet cleaning questions!
Expert Carpet Installation Services Available
Once you've chosen your ideal carpet selection, let us finish the job with our professional carpet installation services. Our staff is made up of thoroughly trained and experienced professionals that are committed to completing your home renovation project precisely and on time. At Bowcutt's Flooring America, we care about your lasting success. That's why we cover each carpet installation with our Ultimate Confidence Guarantee. This promises that should you experience any issues, we will make it right at our own expense. Ready to learn more about our carpet options?


Contact us today to take the first steps towards refurbishing your home with new carpet from our stylish collection! We proudly serve Bluffdale, Utah, and the surrounding areas.