ELK Classico Configurable Multi Pendant; Burke Decor Caprio Woven Pillow in Bright Yellow; Benjamin Moore Yellow Flash 2021-10; CB2 Acapulco Yellow Outdoor Chair; Pottery Barn Fermob Metal Guinguette Side Table; Couristan Monaco Sea Pier in Sand-Lemon; Sur La Table Grate Plate Handmade Ceramic Grater; Daltile Retro Rounds in Daffodil Yellow
As summer springs forth, what better way to kick off the season than with a splash of color! This summer, our coveted color is Limoncello Yellow. This warm yellow hue blends the brightest shades of yellow with the warmer tones of orange to create a marigold hue that's reminiscent of summer elements like summer squash, sunshine, and cold lemonade. Explore our collection of yellow interior decor with outdoor furniture like the Acapulco yellow chair by CB2 and a sandy-neutral outdoor area rug.
Fun fact, yellow means happiness, sunshine, and warmth in most cultures so what more fitting color than yellow to incorporate into your home design this season?
How to Decorate with Yellow
While yellow might be a popular summer color, it's often hard to know how to decorate your home with such a bold hue. Yellow can be overpowering and overwhelming in great quantities so break up the concentration of color. You'll want to strike a balance between the brightness of the shade and other neutral colors so that it doesn't oversaturate your interiors.
Here are a few ways to easily dress up your home this summer with yellow:
Yellow backsplashes
Yellow area rugs
Yellow window treatments
Yellow decor
Yellow accent walls
Yellow flowers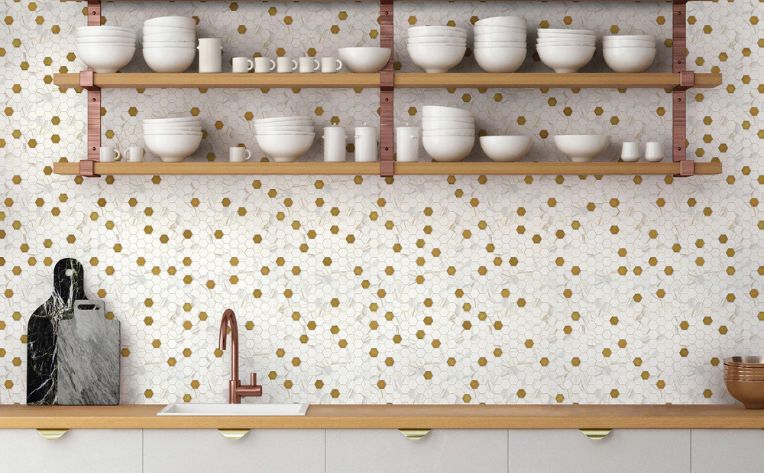 Posh Chiffon in Uptown Glass by Daltile
Pro-tip: Lemon yellow hues are often found in natural greenery and flowers, so use the summer season to your advantage and pick up a few begonias from the local flower shop or even pick some wild daisies and daffodils on your afternoon hike. Bouquets of wildflowers make for beautiful yellow house decor that's subtle and alluring.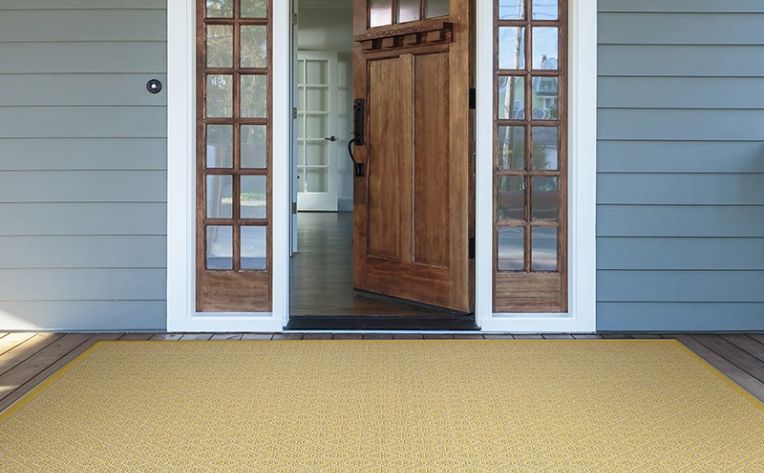 Monica Pier in Sand-Lemon by Couristan
Yellow Flooring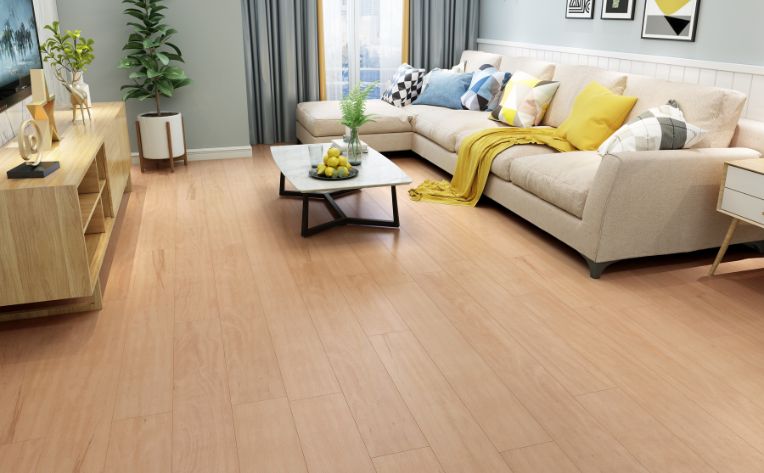 Beech Light Blush by Biyork Flooring
When it comes to flooring, yellow floors are often seen as outdated or off-trend, so how do you find a floor to compliment your yellow decor? First off, find flooring products with warm undertones that brighten up your space. When looking at hardwood, consider golden oak, birch, honey maple, hickory, and pine species as these woods have yellow-based undertones. Paint colors for light wood floors that go with yellow include buttery browns, golden tones, and antique reds.
Of course, if you're looking to make a bolder statement with yellow flooring, you can always find a flirty geometric yellow tile for the bathroom floor or a flower-patterned yellow vinyl sheet for the laundry room.
Whether you decide to install a wood floor with subtle warm yellow tones or go all out with a sunny yellow tile mosaic is entirely up to your design taste and lifestyle needs. Bear in mind that if you decide to choose a bright yellow vinyl or tile, you should choose quality products that are spillproof and stainproof as dirt and grime often show up more starkly on this lighter color.
Explore more summer design trends and learn top interior design tips from interior designers when you read our latest issue of Design at Home.